Warum ich Deutsch lerne
5:40 min digifile (SD) col, stereo, OVde (SUBjp) JP
Ausstrahlung im japanischen Fernsehen.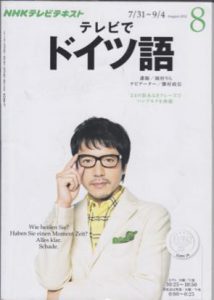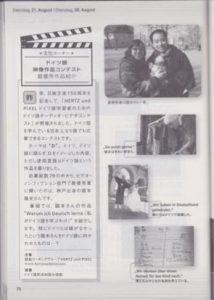 Lea Kraft
Kultour durch Literatur, Theater und Film
Fotomontagen, Interviews, Texte aus dem Off —
die Liste der Stilmittel, die Takashi Kunimoto verwendet,
könnte noch lange weitergeführt werden.
Seine Filme sind vielseitig gestaltet und arbeiten
oft mit Widersprüchen. So passen die Bilder nicht
immer zum Text, lockern diesen zum Beispiel
durch Wortspiele auf.
Photo montages, interviews, off-screen texts—
the list of stylistic devices that Takashi Kunimoto
uses could go on. His films are versatile and they
often work with contradictions. The images do
not always match the text, for example loosening
them up with word games.
フォトモンタージュ、インタビュー、オフスクリーン・テキス
ト。国本が用いるスタイル上の工夫は、数え上げればきりが
ありません。彼の映画は多彩で、しばしば矛盾をはらんでい
ます。イメージとテキストは必ずしも一致せず、例えば言葉
遊びで柔らかくしている。